Marketing that delivers results and gets desired outcomes is based on the thorough understanding and clear communication of your business.
Having a strategic marketing plan is essential for every health business. It is central to successful outcomes and has a proven direct link to the bottom line. It examines every aspect of your business, your competitors and your potential clients – identifies what it is that makes you different to answer the question… "Why should I choose you?"
Individual businesses need unique marketing solutions
There is no one size fits all approach to results-based marketing as every  business is different with variation based on the type of business, the strengths of the service provision, the current marketplace expectations, the competition, and your business goals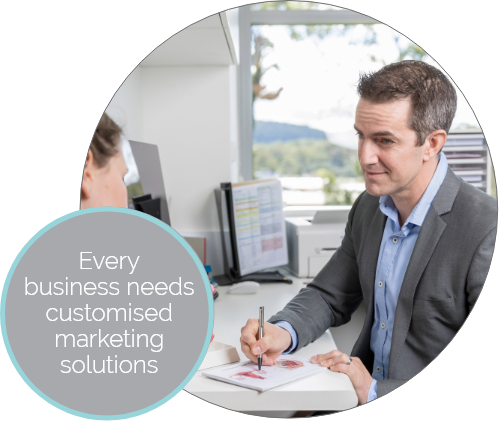 Customised, comprehensive Marketing Plans
CJU's strategic marketing managers have vast experience in the development of comprehensive, detailed marketing plans for small, medium and large Medical businesses, Aged Care and NDIS providers that are customised to meet your needs.
Key elements needed to develop a strategic marketing plan for your business include:
What is an integrated marketing strategy?
An integrated marketing strategy utilises off-line and on-line channels. It gives you a map to follow and targets to set and achieve along the way. It introduces disciplined and ongoing campaign activities and communications with your marketplace and helps you to best engage for mutual benefit.
Step 1
Step 2
Step 3
Step 4
Step 1
A 2-3 hour Strategic Marketing Discovery Meeting
Taking the time to consider your business and gather data through a strategic marketing meeting supported by experienced CJU Medical Marketing consultants will uncover the core elements of your business and your value offering, as well as identify your target market/s, clarify your business goals and identify opportunities not yet considered.
The CJU Marketing Discovery Meeting covers:
Current marketplace review – where your business is now and how it got there
What are your segmented target markets, what are those you most want to pursue, what are the most profitable
Where are your customers coming from, what are they buying from you and why
Who are your competitors, how are you viewed compared to them, how are you positioned compared to them
What is the value that your clients receive from your services
Where you want your business to be – establishing realistic goals and tracking and monitoring these through milestones

Uncovers your potential opportunities
This is the first step in the development of your marketing strategy
Step 2
Step 3
Step 4
A strategic marketing plan is intrinsic to business success.
"Tactics without strategy is the noise before defeat".
CJU Medical Marketing is trusted and used by clinicians, private hospitals, aged care and NDIS providers, device and product suppliers to develop solid tailored marketing strategies and campaigns designed to suit your business, your budget and your goals. CJU can then work with you on the execution of all aspects of your marketing strategy as part of your marketing team. I engaged CJU in the early stages of my private practice and they have worked closely with us to establish our point of difference, develop our brand and design and execute our digital strategy through our website and social media.